Abingdon Marina is the only off river marina with floating pontoons upstream of Reading making us especially popular with boaters who are seeking peace of mind when they moor up and leave their boat to return home. Particularly those who live some distance away as there is no need to adjust ropes with the rise and fall of the river.
Even in flood conditions, your mooring simply rises alongside keeping your boat safe.
If you would like to contact us we can let you know
the availability of a mooring, the
up-to-date rate, and/or the cost of keeping your boat here with us. Please provide us with the dimensions of your boat. 
Water is available to all moorings and electricity to most. We have an Elsan emptying station, ladies' and gents' toilets and a secure compound for parking your car whilst you are away cruising.
Our slipway can be used for most trailered boats, but for more information, please ring or email the marina office.
There are basket trolleys to aid transporting clothing, bedding, and food (clean items) to your boat. 
Wheelbarrows are provided for transporting batteries, gas cylinders, Porta Potties, tools etc. to and from your boat.
Items for sale (not boats) can be posted on the marina notice board in receipt of a small donation to charity.
Boat sales are handled by Gary Boughton-Smith of Premier Marine Ltd.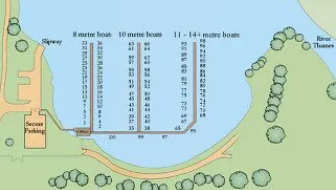 Use of our facilities is restricted to those who officially have a mooring here.
We have no facilities available for other private or any hire boats.
To find out more about our marina facilities, call us on
Opening Times: 
Monday CLOSED
Tuesday 10 am – 4 pm
Wednesday 10 am – 4 pm
Thursday 10 am – 4 pm
Friday 10 am – 4 pm
Saturday 10 am – 4 pm
Sunday 12 pm – 4 pm
These are the times we try to adhere to, but please leave a message and we will endeavour get back to you within 24 hours.